Attention: Athletes, Parent's of Athlete's, Non-Athletes, And Anyone Else Who Wants to Take Their Training Results To The Next Level…

So you might be sitting there reading this page right now thinking to yourself about "What's so special here with "The Forged Athlete Gym"???

Well, to be totally up front with you, no matter if you're an athlete that's competing at a high level or just an avid fitness enthusiast looking to get stronger and leaner, Omaha's Forged Athlete Gym is the REAL DEAL.
With it's specialized and dynamic "Aggressive Strength Method" design of training, you'll  see some drastic changes with your overall ability to perform and to be athletic in the shortest amount of time possible while giving you the best of what Omaha has to offer within qualified personal strength and conditioning coaching.
So, What is The Forged Athlete Gym in Omaha?
The Forged Athlete Gym is a results driven, high energy total fitness training system that includes motivation, accountability and highly dynamic performance based training program; all designed to get you the results and overall physique  you want in a safe, fun and highly skilled coaching environment.
Every training session is led by an experienced, highly qualified strength coach and is designed to be extremely fun, supportive and challenging, while giving you the BEST results possible, in the least amount of time. Personalization is the KEY to getting the best possible results, which is why our workout programs are modified to fit your goals and individual fitness and skill levels.
But unlike working one-on-one with a personal trainer, our workout programs are done in a small group "team training" type of set up which makes them fun, motivating, highly challenging, PLUS keeps the cost of the program affordable compared to private one-on-one personal training sessions.
HOW Does The Forged Athlete Work?
Here at the Forged Athlete Gym in Omaha, we believe and know that the key to becoming stronger, fitter, leaner, and more athletic isn't about a having big fitness center where they hand you towels, have a nice smoothie bar, and a bunch of other fancy equipment.   It's about having a program that combines top of the line coaching and support that that supplies proven and effective training programs, nutrition support and counseling, plus a strong-willed, fitness minded, supportive and highly positive community of people who are driven and committed to making fitness a large part of their lives.
More About The Forged Training "Aggressive Strength Method":

Here At The Forged Athlete in Omaha, our philosophy is to "Live and Train Aggressive"  We focus on a program that optimizes physical endurance and stamina, max strength, flexibility, power, speed, coordination, agility, balance, all for the BIG goals to promote overall increase athleticism. By focusing on all of these different skills, not only will you look and feel better, you'll also be prepared for anything else life brings your way whether you're an athlete that's competing at a high level or a weekend warrior wanting to be in top shape.
More About How The Forged Athlete Gets YOU Amazing Results…
When it comes to good overall health and being able to perform at high level while also achieving the body of your dreams, properly fueling your body is a big part of your overall success. To help you, we supply total in-depth support on how to properly eat to gain the best results possible.  We call it our "Lean. Mean. Strong." way of eating.  With this, you'll lose fat, build muscle, and be able to perform at your best.  Along with this, we offer nutritional support to ensure you get the BEST results possible. We'll also have nutritional challenges where you can fine-tune your nutritional habits with a group of people supporting you. The bottom line on your results depends upon how well you eat.
More On The Forged Athlete's Community (AKA – The Forged Army):
At most gyms, you show up and do your own thing which
translates to you wondering around aimlessly trying to figure out what to do.  Sometimes you may get noticed, other times not.  At The Forged Athlete Gym in Omaha, our coaches and members are a family and everyone is here for each other.  NO ONE gets left behind.  The Forged Athlete Gym was built to breed healthy competition and accountability and our MISSION is to build up an Army of individuals who are driven and committed to doing whatever it takes to be as fit and strong as possible. Successful people surround themselves with other successful and driven people who have common interests.  We teach you to treat training sessions with 110% intensity and focus because during rigorous training session, it can make a world of difference knowing someone is enduring it right there with you with all out effort.  It's all about the atmosphere and the energy of the gym.  The members of The Forged Athlete supply this community.  Together, we're an Army of one.  Together we'll become FORGED STRONG!
SUCCESS STORIES
Ian STRUGGLED for the longest time to lose weight and get into the shape he wanted to be in for years.  It wasn't until he joined the Forged Athlete gym that he was able to finally break through his barriers and get the gains in strength and drops in bodyfat he busted his butt off day in and day out to get.  This guy s a work horse and EARNED all of the results you see below…
 ================
Korbin Gained 15 lbs of LEAN MUSCLE and WON State Wrestling as a FRESHMAN
Coming into the gym, Korbin struggled to gain weight.  Weighing in at a soaking wet weight of 90 lbs Korbin couldn't budge the scale.  After joining the Forged Athlete Gym, Korbin quickly started to gain LEAN MUSCLE and STRENGTH while also DOMINATING in wrestling.  He just won his 1st (of many to come) State title.  Korbin is one of the HARDEST working kids you'll ever meet and is a prime example of what HARD WORK and COMMITMENT will get you.
Ronan Went From Beer-Bellied, Lazy College Student to High Level Military, Death Race Running, BADASS STUD…
When Ronan first join the Forged Athlete Gym, he was a in college that lived the traditional student life of drinking, staying up until late hours in the night, eating fast food almost daily…
Within just the first few weeks, we were "this close" to kicking Ronan out of the gym from being lazy and inconsistent.  He'd miss workouts, continue to eat fast food, and his drinking habits as a student weren't improving.
Ronan continued to struggle until one day…  I can remember going over our main overviews on nutrition with Ronan and something clicked.
He started to change his nutritional habits by cutting out fast food and eating a more Paleo based diet.  His drinking habits ceased and and his consistency with training sessions become near perfect.
Mentally, Ronan became a totally different person in just a matter of month's and when that happened, physcially he started to change as well.
As you can see, Ronan got RIPPED…
Not only did Ronan get RIPPED, he excelled in everything else he's pursued from then on…
-Successfully completed The DEATH RACE
-Got Accepted and Successfully passed Officer's Candidate School
-Received the highly prestigious "Gung Ho" Award
Jake Went from having a "BUSTED UP and SORE BACK", to a STRONG 500 lbs Deadlift…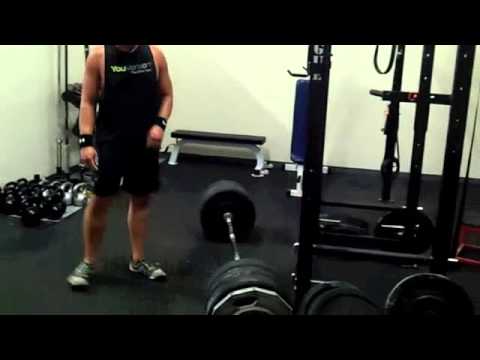 Larry "the Barbarian" has literally CHANGED HIS LIFE…
BIG Mike in hiw own words… "I went from looking like an Average Joe to looking like Rambo's stunt double"…
Like most people, I started out in a commercial gym, doing 5 sets of every chest and arm workout in the book. Most days for me at the gym ended with me walking out of the gym without even breaking a sweat, this is not working out. Travis and Joe revolutionized the way I worked out. I went from 190 lbs, no abdominal strength, little to no definition in my muscles, and no drive to work hard. In a matter of only a few months of learning techniques, doing core exercises and 10 minute sled drags, they were able to help me transform my body into a battleground. I went from looking like an Average Joe to looking like Rambo's stunt double, and I owe it all to them. I can't go back to my old workout ways, it simply will never match up to The Forged Athlete.
-Mike W

==============
My STRENGTH,  POWER, and ENDURANCE have all blown up! 
My punches are laying people down like nothing and I feel way more in shape and
stronger than ever! 
This type of training just changes you both mentally and physcially.  I love it!
-Brian "B HUE" Houston – MMA Fighter/ Boxer Omaha, NE
Todd Meneely Trains to be FORGED STRONG…
I never felt more prepared and ready than when i trained with Travis and Joe.  I felt like an animal!  My conditioning was out of control and my strength levels were through the roof!  The workouts kick ass and the energy in the gym is unreal!  No other place comes close!  I'm 110% confident Travis and Joe at The Forged Athlete Gym in Omaha NE will get me to where I need to be!
-Todd Meneely, 3 x Div II Wrestling National Champion and NCAA Div II Wrestler of The Year 2009
=============
Josh went from "just Josh" to what we liked to call him, "Jacked Josh"…
 -Josh A. AKA "Jacked Josh"  Ex-Athlete / Weekend Warrior, Omaha, NE
====================
The Forged Athlete is not your ordinary gym. I've had experience with numerous weight programs from being on a power house division 2 football team, Northwest Missouri State, to training for the NFL, to being apart of the Green Bay Packers.  I kept my dream alive to play pro football again after being released from Green Bay.  I started training at forged and with no doubt, could feel the gains of power and explosiveness.  I ended up running a 4.55 weighing 252 pounds at the open tryout for the Omaha Nighthawks.  I was 1 of 3 guys who  made the final roster out of 1500 total from the Omaha, Denver, Dallas, and private tryouts.  Having professional experience helped, but I can honestly say I have never run a faster 40 at that weight. Travis and Joe helped me become more of a freak, period.  It doesn't matter what sport, they will help you excel in your sport.  Not only are the workouts tough and creative for serious athletes, the intensity is like no other.  The Forged Athlete hands down helped me reach my goals.
-Mike Peterson, Omaha Nighthawks TE, FB
=================
It's NOT just about looks….    YOU Will PERFORM BETTER!
-Max Douglas, High School Football/ Basketball Player
The forged athlete has helped me in the cage tremendously. I feel stronger and cardio looks 100 times better after only going there for a month and a half. Travis and Joe stay by your side to make sure your doing everything right and keep you motivated. I recommend The Forged Athlete to anyone trying to become a better athlete.
-Joshua Hopkins  MMA Fighter, Omaha, NE
==============
I was able to add 18 lbs of lean muscle to my frame in 3 months training with The Forged Athlete in Omaha NE.  Before that  I couldn't gain a single pound on my own!  I also felt 10 x's stronger, faster, and could jump higher as well.   I enjoy the unorthodox workouts we do and I love the atmosphere!  it kicks the crap outta any local gym big time!  Thanks to Travis and Joe for everything!
-Mathew Heller, Ex-College baseball player, Omaha NE
It's IMPORTANT YOU Know The We DO NOT Demand That YOU Be In Top Physical Shape To Join Our Gym.  We Simply DEMAND You Be Ready To Work Hard And Have Fun!
That's all there is to it!
But, here's the bottom line…
You're on this page right now, searching the internet for a gym to call your home.
You want to see the results.
You want to feel the results.
And, you want to stop being confused with not knowing what to do.
We know that you've been trying to do it on your own and we know that you're most likely NOT where you want to be.
This is why we built The Forged Athlete Gym…  To Help YOU Get Results!
If you are an athlete, busy adult, or weekend warrior looking to:
* Improve Strength Levels
* Decrease Body Fat % and Get Lean
* Increase Lean Muscle Mass
* Increase Your Overall Energy and Stamina
* Improve Quickness and Agility
* Increase Explosive Power and Speed…
Fill In The Form Below To Apply For A Membership

(Click The Image Above)
Or Call Us At 405-FORGED-5
THE RESULTS DON'T LIE…
To Apply for Membership: Please Complete Our Intro
"Strategy Strength Session" Form Below Or Call Us:
**PLEASE DO NOT SIGN Up If You Live Outside Of Omaha NE**
Call Now while space is available: (732) 379-9370
IF YOU'RE Ready to Work Hard and HAVE FUN While YOU Get Results,
NOW is the time to TAKE ACTION
CALL US AT 405-FORGED-5